By the LEV Policy Team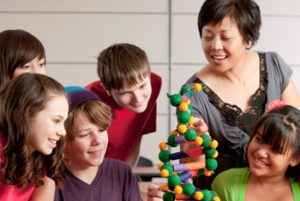 We begin our discussion of redefining basic education with the most important part of our education system: our teachers. Research consistently shows that teachers have the strongest school-based impact on student performance, but that is not reflected in their current pay. The Washington State Supreme Court is requiring the Legislature to increase the state contribution to teacher salary as part of its duty to fully fund education. As the state grapples with how to meet its McCleary obligations, we must continue to advocate for meaningful investments in education—which starts with investing in teachers.
Teacher salary in most districts comes from a combination of state and local levy funding. Currently, the state pays districts only $35,700 for first-year teachers with a bachelor's degree. To provide a wage that accurately reflects the job responsibilities of teachers, districts use local levies to supplement state funded salary. The ability to pay teachers additional salary and the amount of additional salary varies from district to district and is dependent on how much districts are able to raise through local levies.
The average teacher in Washington gets paid $64,867, but the state only pays for $53,767 of that. The state must contribute more towards teacher pay, but simply changing who pays for teacher salary will not change the experience of teachers or students. Improvements to our state's compensation system are needed to better recruit, retain, and reward high-quality teaching, including increasing starting teacher salary.
Our current state salary schedule focuses on years of experience and educational attainment rather than difficulty of the teaching assignment, job performance, or teaching certifications. Aligning teacher compensation to career advancement and attaining higher certification levels, as recommended by the Compensation Technical Working Group, would better align salary increases with the knowledge and skills teachers have accumulated. Teachers who have demonstrated excellence in teaching should also be given opportunities to take on additional leadership roles, such as serving as a mentor for beginning teachers, and be compensated for these additional contributions.
Ideally, compensation reform would include an extended contract that more accurately reflects the time and work teachers dedicate to their students outside of the school day or year, like evaluating student work or meeting with students after school. Providing teachers with a competitive salary along with an extended contract can allow more time and resources for parent teacher conferences, job-aligned professional learning, and lesson planning. An extended contract allows for restructuring professional development so it limits disruptions for students and families during the school year.
Establishing a better way to compensate teachers will help to attract and retain effective teachers, but compensation isn't the only way we should be investing in teachers. Dissatisfaction with professional support, leadership, and other working conditions are leading causes for teacher turnover. We need a thoughtful approach to more effectively retain high-quality teachers that is informed by what causes teachers to leave the classroom. If Washington wants to address teacher retention in the long-term, we must do a better job of supporting teachers and school building leaders to tap into their incredible drive and passion for their students. We'll be exploring ways to do this in upcoming blogs.
Our teachers are our most effective resource for closing the achievement gap and improving student outcomes. How can we move beyond the status quo and rethink the way that we compensate our educators?
#BeyondBasic
Read LEV board member Cate Simmers' view on teacher compensation, A Teacher's Perspective on Contracts and Collective Bargaining
Read Part 1 of our McCleary blog series, Rethinking Our Education System