By Julia Warth, Director of Policy and Research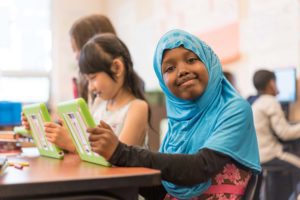 The recent investments and changes made to the K-12 funding system in response to the Washington State Supreme Court McCleary ruling will have long-lasting impacts on our education system. While progress has been made to adequately fund basic education, more work remains to ensure that we equitably fund basic education. League of Education Voters is committed to working with districts and partners to continue to move towards an education system that is funded to provide every student what they need to succeed.
We will be providing a number of resources and series of analyses that will highlight some of the remaining opportunities and work ahead looking towards the 2021 legislative session. These include:
A series of maps that illustrate the impact of House Bill 2242 (2017 legislative session) and Senate Bill 6362 (2018 legislative session) across the state, and the inequities that remain;
A brief on the choices facing districts and the new investments in teacher salaries;
An analysis of the continued challenges in special education funding in preparation for the 2019 session; and
A broader analysis of the impact of HB 2242 and SB 6362 and solutions to explore to address challenges created by regionalization factor and the two-tiered local levy structure, and how we can better target resources to students who have been systemically and historically underserved.
Our work will be guided by our goal to create a funding system that:
Directs investments based on student need. Any changes to the funding system should drive resources to districts based on the needs of their student populations.
Creates equity for high-poverty districts. Changes made to the funding formulas should address disparities created between high-poverty districts and low-poverty districts.
Attracts and retain educators. State funding formulas should ensure that districts across the state are provided with enough resources to attract and retain a diverse, effective educator workforce.
Increases transparency in our funding system. Increased access to data on how the new funding system directs its resources will help to identify state and district priorities and the effectiveness, adequacy, and equity of the new structures.
We look forward to hearing from and working with our families, students, district and school staff, partners, and legislators to create an education system that is funded to support and prepare every student for their academic, career, and life pursuits.
Read The Work Ahead: District Decisions Around Teacher Salary Post-McCleary
Love what we do? Support our work
Want to find out the latest in education news in Washington? Subscribe to our newsletter
Want to learn more about League of Education Voters? Find out here