Colorado State Senator Mike Johnston is a rising political star and an education inspiration, and he's coming to speak at our 2013 LEV Breakfast. Here are five reasons why we can't wait to hear from him:
He's lived what he's talking about.Sen. Johnston was a high school English teacher in Greenville, Mississippi with the Teach for America program. After earning a master's degree in education and a law degree, he returned to Colorado and started his career as a principal. There he lead two alternative high schools serving Colorado students held in state custody or living in group homes and detention centers.
He's committed to supporting great school leaders.Sen. Johnston is co-founder of New Leaders for New Schools, a national non-profit that recruits and trains urban principals.
His work speaks for itself.His hard work in education and politics have earned him well-deserved accolades. In 2011, TIME Magazine ranked Mike among the "Top 40 Under 40 Rising Political Stars," and Forbes Magazine listed him as one of the "7 Most Influential Educators" in 2010.
He believes truth and hope go together.During his first year in office, Sen. Johnston championed the Great Teachers and Leaders Law, groundbreaking legislation that alters teacher evaluations by measuring student growth.
He knows change is possible.In 2005, Sen. Johnston became the founding principal of MESA (Mapleton Expeditionary School of the Arts), a redesigned urban high school in the Mapleton Public Schools that made Colorado history by becoming the first public high school in which 100 percent of seniors were admitted to four-year colleges.
And if you need one more reason to come hear him speak at the 2013 LEV Breakfast, look forward to hearing inspirational lines like this: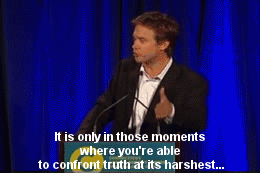 We hope to see you there!
What: 2013 LEV Breakfast, featuring Keynote Speaker Senator Mike Johnston
When: May 16th, 7:30am – 8:45am
Where: Sheraton Seattle Hotel