By Lauri Hennessey, League of Education Voters CEO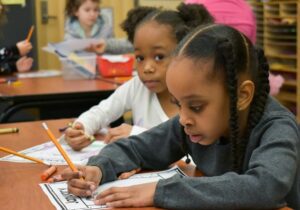 Today, our offices are closed in solidarity with the Statewide Silent March and General Strike led by Black Lives Matter Seattle-King County. Our closure today will provide a dedicated opportunity for everyone at League of Education Voters (LEV) to focus on the inward and outward work of dismantling racism, ending police brutality, and supporting Black lives. Everyone will engage in different ways, whether that is through reading books, watching documentaries, or participating in the statewide protest. For some, it may just mean thinking deeply or talking to friends and family. For others, it may be taking time for quiet reflection. No matter what, today is only part of a longer and deeper journey, as we dedicate ourselves to learning from our collective racist history and taking action.
One way you can take action is to help organizations making a profound difference in the Black community. Here are just a few:
Beyond giving, what can you do today if you are not joining the march?
Learn and grow: Now is the time to do work and educate ourselves. There are plenty of resources available, including:
Books:

Michelle Alexander — The New Jim Crow: Mass Incarceration in the Age of Colorblindness
Ibram X. Kendi — How to be Antiracist, Stamped from the Beginning, and Stamped
Elizabeth Hinton — From the War on Poverty to the War on Crime: The Making of Mass Incarceration in America
Paul Butler — Chokehold
Andrea Ritchie — Invisible No More: Police Violence Against Black Women and Women of Color
Ijeoma Oluo — So You Want to Talk About Race
Films & Documentaries:

Ava Duvernay — Selma and 13th
Saabah Folayan — Whose Streets?
TedTalks also has assembled a list of some of their best talks about racism.
Improve each day. At LEV, we are each taking on our own work to become anti-racist, whether this means working as a team on equity, with our own personal mentors and coaches, and with partner organizations to truly see what we need to improve. We need to keep learning, and that cannot happen unless we are listening.
We are all living in a historic moment "That holds possibilities for change we have never before experienced," as civil rights activist and scholar Angela Davis said in an interview a few days ago. The problem of police brutality – and its historical roots in slavery and racism – has reached a moment of reckoning across the nation. But America has a racist past that is clearly entangled in everything from criminal justice to our housing systems. And education is part of that past. The murder of George Floyd has finally compelled some in white America to stop and truly see the tragedy that has long been playing out in our Black communities. Of course, much of this is because of the work of Black leaders and activists dedicating themselves to this cause for so many years. But more people finally seem to be listening. The key challenge now is to continue and deepen this movement for Black lives and anti-racism beyond June 2020.
Here at League of Education Voters, our focus is education, which we all know has never been equitable. Schools were not built for everyone, and they still don't work for everyone. Our funding structures perpetuate and promote a resource disparity between schools in predominantly white communities and those in communities of color. Students of color do not see themselves represented in their teachers or their curricula. These are all forms of institutional racism that continue to exist. Every child has a right to an excellent public education because gaining tools to navigate and transform your world is power. But without radical change, school systems will continue to deny power to Black children and other students of color.
For many people, the task of dismantling structural inequities and racist systems can seem overwhelming, almost impossible to begin. But we must begin. So we will take today to think, to act, to read, to learn, to honor those who have worked for so long, and grieve those who have been lost.
Thank you so much to every one of you who is taking time to march and support this important movement. Thank you to those who are reading, viewing, learning, and deeply reckoning with your own journeys.
Most of all, we want to keep top of mind all of the many people who have suffered over the years, whether through police violence or systemic racism. We can and must do better to support you.
Be well,
Lauri
Love what we do? Support our work
Want to find out the latest in education news in Washington? Subscribe to our newsletter
Want to learn more about League of Education Voters? Find out here