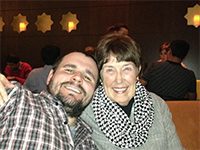 At the League of Education Voters (LEV), we recognize all of the hard work that you do toward improving public education across Washington state. We are pleased to announce our Activist of the Month for August: Connie Gerlitz. Read more about her experience as a long-time advocate for all kids.
Connie Gerlitz got her start in advocacy through her work at Safeco Insurance "way back," she says, where she worked to improve safety standards for children. She worked with the Legislature to fight for laws around things like seatbelts for children, car seats, and bike helmets.
Working with the Legislature gave her the confidence to speak publicly and testify on behalf of issues that she believes in, and she also gained insight into why working with the Legislature was so important.
Connie has been involved with the League of Education Voters (LEV) since its inception, and she recalls attending an exploratory meeting with LEV co-founder Lisa Macfarlane in Bellevue thirteen-some years ago. She has also been a PTA member for years and served in every possible office. She has organized trips for PTA members to testify at the Legislature.
In fact, Connie and her husband Dennis were awarded the Washington State PTA Outstanding Advocate Award in 2006. LEV State Field Director Kelly Munn says Connie has a long and steady history of advocacy for kids, and she's worked with LEV on a variety of issues. Most recently, Kelly says, Connie worked on LEV's endorsement committee for 2014 elections, and her contributions were invaluable. "She attended every meeting and asked the questions that we didn't know to ask."
LEV Board President Karen Cooper added, "Connie's questions were pointed and thoughtful. She helped get specific answers when the candidates often preferred to stay vague and non-committal. She was a valuable part of our team."
Connie described LEV's endorsement process as being very fair and credits LEV Government Relations Director Frank Ordway for making sure that the candidates were comfortable with the process while still allowing the committee to ask difficult questions. "I didn't want to offend anyone, but I'm not afraid to ask pointed questions and follow-up questions."
When asked to highlight work with LEV that stands out for her, Connie called out the campaign for HB 2261, which expanded the definition of basic education. "I knocked on doors, gave speeches, testified, wrote letters…. It was a huge effort by many people and organizations, and it paid off."
Reflecting on Washington's public education system, Connie says, "If I could wave a magic wand over the public education system in this state, I would make it possible for all parents to get more involved and engaged in their child's education. All I can say is, thank goodness for organizations like LEV."