At the League of Education Voters (LEV), we recognize all of the hard work that you do toward improving public education across Washington state. We are pleased to announce our Activist of the Month for April: Dakoda Foxx. Read more about Dakoda's advocacy and activism in her community.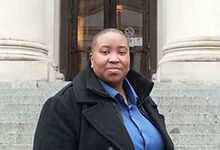 Dakoda Foxx's advocacy work began close to home in 2011, after her daughter was suspended for 100 days. Dakoda knew this "wasn't right," so she went to TeamChild to talk to them about her daughter's IEP (Individualized Education Program) and her options for reengagement. Through her conversations about school discipline, Dakoda learned that many parents in her Puyallup community had children facing the same issues.
From there, she began advocating in earnest. Dakoda advocated at all levels—from doorbelling to testifying about discipline. In 2012, Dakoda began looking for organizations who would work on legislation about school discipline, and that's how she learned that the League of Education Voters was already working on Senate Bill 5946.
The rest, as they say, is history. Dakoda has continued testifying about school discipline and closing the gaps on a regular basis—most recently in support of Rep. Sharon Tomiko Santos' bill on closing the achievement gap (HB 1541). Shortly before that testimony, Dakoda also spoke at the March State Board of Education meeting in Tacoma about transforming school discipline.
One thing that Dakoda strongly believes is that you cannot silo an issue like school discipline without looking at the larger implications—you cannot transform school discipline without looking at the opportunity and achievement gaps; likewise, you cannot close the gaps without looking at school discipline. "You have to focus on both—they're symptoms of a greater problem."
Dakoda also stresses the role of cultural competency in closing gaps. "Kids act out when they feel they are not being heard or represented. They're also watching, and they know when schools don't care or aren't being held accountable."
League of Education Voters Community Organizer Joyce Yee describes Dakoda as a "fantastic advocate for families and children," always willing to go the extra mile. In her spare time, Dakoda volunteers at Mary Bridge Children's Hospital and at her local Boys and Girls Club.
Going forward, Dakoda plans to continue focusing on school discipline. "We need to actually do what we promised to do with the new law. Right now, a lot of people are talking, while doing nothing." And, Dakoda plans to add her energy to efforts to ensure that low-income students have access to the supports they need to successfully complete college.