At the League of Education Voters (LEV), we recognize all of the hard work that you do toward improving public education across Washington state. We are pleased to announce our Activist of the Month for May: Gabriel Portugal. Read more about Gabriel's advocacy and activism in his community.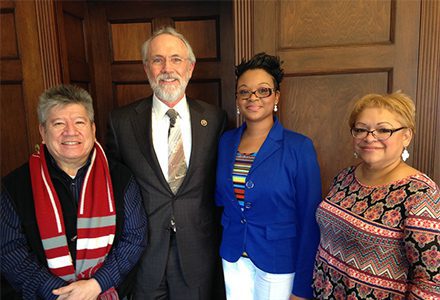 Gabriel Portugal has been involved in his community for his entire career. A retired educator, Gabriel served two terms on the Washington State Commission on Hispanic Affairs. As Commissioner, Gabriel founded Washington's Latino Legislative Day (now known as the Latino Civic Alliance) to empower members of the Latino community to advocate for themselves and their families. Gabriel says he declined to serve as Latino Legislative Day Board member for more than four years because he believes that "when you're in a position of power for too long, you lose your efficacy as a grassroots activist."
Among Gabriel's accomplishments is his work to help pass the DREAM Act. He says it took three years of work, but the bill finally passed (as the Real Hope Act) in 2014. Gabriel was also recently invited to join the Latino Civic Alliance because of his advocacy work after the shooting of Antonio Zambrano-Montes in February.
Gabriel has volunteered with the city of Pasco for the last 20 years. Gabriel met League of Education Voters Community Organizer Ruvine Jiménez while working at the Pasco School District in the mid-'90s, and the two have worked together on community issues for many years since then. He also met former LEV Community Organizer Micaela Razo in Sunnyside at a 2014 advocacy training. Gabriel was struck by LEV's mission and continued to stay connected with Micaela and Ruvine so that he could advocate for education when opportunities presented themselves.
One such opportunity presented itself this January, when Gabriel traveled to Washington, DC, with Ruvine and former Activist of the Month Quontica Sparks. The trio attended a US Senate Education Community hearing on the Elementary and Secondary Education Act (ESEA) reauthorization and spoke extensively with Rep. Dan Newhouse. Gabriel returned to Washington state with a better understanding of how the ESEA can serve all students, regardless of their situation or background. In a letter to the editor in February, Gabriel writes, "Students from disadvantaged homes will be most affected if states are no longer accountable."
Ruvine commended Gabriel for his willingness to travel to the other Washington on such short notice. "His experiences and insight were invaluable in our conversation with Rep. Newhouse and others in DC."