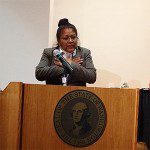 At the League of Education Voters (LEV), we recognize all of the hard work that you do toward improving public education across Washington state. We are pleased to announce our Activist of the Month for September: Maria Estrada. Read more about her experience as an advocate for all kids, including her daughter, Paulina Zepeda (our March 2014 Activist of the Month).
Maria Estrada believes in parent engagement. She believes in it so strongly that she's worked with Donald Bender, Migrant Academic Service Coordinator for ESD 105, to write a series of curricula on parent engagement. But it's one thing to write curricula and another entirely to take action on it. Maria testified at the public hearing at the State Board of Education meeting in Spokane in July on that very topic.
Maria says that parent engagement is key to student success. "When parents are engaged, they can help their children make decisions about their future and successfully achieve their dreams. Parents should trust their children and love them, of course, but they also need to stay engaged. In doing that, they not only help their own children, they help all children."
Maria's interest in education advocacy started years ago. From a very young age, Maria was intrigued by education. She admired her teachers and professors, but she was uncomfortable with the punitive discipline measures she observed in her classes in Mexico. She decided as a young girl that she would become an educator and engage with her students in dialogue rather than slapping them with rulers.
It wasn't easy for her to become an educator, especially as a woman. But she was successful and taught business education for 27 years at the University of Colima and 10 years at the TecMilenio University. And Maria says being an advocate for education was "borne in her heart" from the very beginning.
As a parent, Maria was involved in her daughter's education from preschool on and attended every conference or meeting, but once they moved to Washington, the language barrier prevented her from understanding how the school worked or what classes her daughter was enrolled in. Maria also had to return to Mexico for a short time while her daughter was studying.
Her daughter's school enrolled Paulina in Algebra 1 four times in a row despite Paulina's good grades, and Maria had neither the understanding of the school system nor the language skills to advocate on behalf of her daughter. Paulina now must attend community college and take remedial classes instead of applying to a four-year university as she had wanted.
Maria knew she needed to advocate on behalf of her daughter but wasn't sure where to start. That changed when she met LEV Community Organizer Micaela Razo at an OEO Finding Your Voice training in Grandview last fall. "Maria stood out because she kept asking the difficult questions and asking how she could get involved and advocate for all kids," says Micaela.
When it came time to testify at the State Board Hearing in July on the rules for Washington's updated high school diploma, Maria decided to join the cause to talk about her daughter's struggles in school. "I needed the State Board to learn of my daughter's situation, but I also wanted to advocate on behalf of all of the students who would have been left behind had the State Board not voted in favor of academic rigor or parent engagement."
Maria joined a number of other advocates in testifying to the State Board, with Micaela translating her testimony. She handed out copies of her daughter's transcript to the Board to show how Paulina had been left behind in her school, and board members were clearly taken aback that something like this could happen to a student in Washington. But Maria says she also testified on behalf of all kids. "We need students to succeed and join our workforce and become our future political and economic leaders."
When asked how it felt to testify, Maria said: "I was happy to be able to express my opinions without any political repercussions. I'm so grateful we live in such a great democracy. I feel like the State Board did hear my voice, and I am thankful that they were willing to listen."
Upon hearing that the State Board had voted in favor of academic rigor and parent engagement, Maria said, "That's quality. Congratulations to the Board for hearing the voices of me and other advocates and voting on what's best for all kids."