At the League of Education Voters (LEV), we recognize all of the hard work that you do toward improving public education across Washington state. We are pleased to announce our Activist of the Month for June: Mary Fertakis.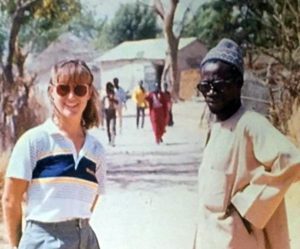 For more than two decades, Tukwila School Board member Mary Fertakis has been fighting for people who have been marginalized – denied opportunity by race, place of birth, or government.
She first became involved with LEV in 2007, when simple majority for school levies was on the ballot. Mary worked on that issue through the Washington State School Directors Association before meeting LEV co-founder Lisa Macfarlane at Tyee High School in Sea-Tac. "The key for both WSSDA and LEV's advocacy on that issue was separating levies from bonds," Mary explains.
Mary has seen change happen when multiple groups from different sectors have been working on an issue separately and then converge, like the spokes of a wheel. Mary saw it most recently with early learning. She says, "UW research in early childhood, brain development, and I-LABS, plus the health and early learning communities, non-profits/funders, and K-12 education leaders all got the message out. Each entity had a touch point so different audiences could connect with why it's important." And she saw the result in a recent, successful Tukwila School District bond measure that included a Birth to 5 center.
The education world has been with Mary throughout her life. Her father taught in the Seattle School District and her mother was a scientist, running the University of Washington's pathology lab for years. She credits her parents for instilling values that are important to her. They discussed weighty issues, took her to the fire station when they voted (in every election), and exposed her to different cultures through travel and the UW's international students who worked in the lab. She grew up in Seattle when social justice issues made regular headlines and her family was part of activist efforts through the faith community to re-settle Hmong and Vietnamese refugees in the 1970s.
But joining the Peace Corps to work in Senegal for 2½ years affected her most deeply. "That's when I saw firsthand how education can break the cycle of poverty," Mary says. She lived in a village about 2 miles from the border of The Gambia, "the middle of nowhere," and focused on rural development. Her program's goal was to help village communities build a self-sustaining infrastructure where none had existed. "I learned what you need for a community to become self-sustaining."
Mary wrote 11 grants and every grant got funded, which allowed her village to build a school, dig a well, start a health hut, build fuel-efficient stoves, engage in reforestation efforts, ensure that every family compound and the school had a latrine, build a grain storage facility, and create a 1-hectare garden that improved access to food and spawned micro-enterprise, with the excess produce sold at the weekly market in The Gambia. She even brought in a millet-pounding machine, which saved village women significant time on a daily chore and was an income source as women from surrounding villages paid to use it. The combination of freeing up the women's time and creating an income source enabled them to launch a tie-dying business. Mary says, "It could not have been more perfect."
Transitioning back to the U.S. was hard. It took a year for her to not feel nauseated when she walked into a grocery store. "I couldn't handle an entire aisle of cereal boxes," Mary explains. "Senegal is a drought county. When the villagers didn't eat, I didn't eat. Seeing so much food was overwhelming."
Everything she's been able to do since that experience has been icing on the cake. Mary has had the unique privilege, by the time she was 27, of knowing that she made a difference in the world. She and her husband provided some financial support for one of her village brothers to attend college – the first person from the village to do so. He graduated and now teaches in a town with Internet access, which has given her a way to stay in touch with her village. She took her oldest son to visit when he was 5 years old, and longs for the day she can take her youngest son to meet his Senegalese family.
Living in Tukwila, Mary feels like she's still having the Peace Corps experience. She empathizes with the challenges of many of the district's students and their families – what it feels like to be dropped into a foreign culture and having to deal with full immersion. "It's exhausting," she says. "People here don't understand how long it takes to learn another language, what the cultural norms are, and many of the basics of everyday life in a different culture."
Mary had no idea she would still be on the Tukwila School Board more than 20 years after first running for office in 1995. She has watched the district change dramatically, shifting from a majority Caucasian, blue-collar, Boeing town to an ethnically-diverse school district where Caucasians are now the minority. She found it incredibly helpful that she had the experience of living in a Muslim country. Bosnians first arrived in Tukwila, then Somali refugees. Mary was able to help incorporate Muslim cultural issues like Ramadan, food, and health concerns into district awareness and policy.
At some point in her busy life, Mary wants to write a children's picture book based on an experience during her time in Senegal that she shares with students when she does presentations and is explaining the concept of "world view." In her village, which still has no electricity, nights are pitch dark with an explosion of stars. Her mother sent a book of constellations so she could learn about them. Mary told her village father that it contained drawings of what is in the sky and asked if they had something similar in their culture. When he responded, "yes" she pointed out the Big Dipper, describing it, in Wolof, as "a box with a stick coming out of it – we call that the Big Spoon." Her father looked at it, and after a few moments, said that he saw that image – and that they call that cluster of stars the Elephant. After a few moments, she was able to see that also (the Dipper handle is the trunk, the rest of the constellation are its legs). Mary says, "So here we were, looking at the same thing and seeing something completely different based on our life experience."
Now, when Mary gazes at the night sky in Tukwila, sometimes she looks at the Big Dipper and sometimes she looks at the Elephant.