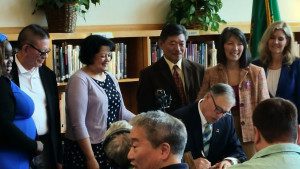 Thanks to the passage of House Bill 1541, students will no longer be suspended or expelled for discretionary offenses, and better statewide data on student demographics will ensure that the system is working to keep all students on track and in school.  All students suspended or expelled will receive educational services and school staff will be provided with new trainings that are sensitive to culture and positively support all students' growth.
Summary of 4SHB 1541
Student Discipline
• Districts must annually disseminate discipline policies, procedures and data to students, families, and community.
• Districts must periodically review and update discipline rules, policies, and procedures.
• The Washington State School Directors Association (WSSDA) must develop a model policy by December 1, 2016:
School districts must adopt policy consistent with the WSSDA model by the beginning of the 2017-2018 school year.
• The Office of the Superintendent of Public Instruction (OSPI) must develop training for school staff on discipline policies and procedures (subject to appropriations).
• School districts are strongly encouraged to provide the trainings to all school and district staff.
• Prohibits the use of long-term suspension or expulsion as a form of discretionary discipline:
Defines "discretionary discipline" as an action taken that is NOT in response to a weapons offense, gang activity, defacing school property, violent offense, sexual offense, drug and alcohol offense, (these offenses come with mandatory disciplinary actions), or behavior that "adversely impacts the health and safety of other students or staff."
• School districts may not suspend educational services as a form of discipline.
• School districts must provide an opportunity for students to receive educational services when suspended or expelled:
Alternative settings must be comparable, equitable, and appropriate to the regular education services the student would have received.
• Expulsions may only be the length of an academic term, as defined by the school board.
• School districts must convene a re-engagement plan meeting no later than 5-days before a student's re-enrollment after a long-term suspension or expulsion:
Families must have access to a culturally sensitive and responsive re-engagement plan and process.
• The Washington State Education Research and Data Center (ERDC) must produce a regular report on the outcomes of youth in the juvenile justice system.
Educator Cultural Competence
• WSSDA must develop a plan for the creation and delivery of cultural competency training to school board directors and superintendents.
• OSPI must incorporate cultural competence training into Teacher/Principal Evaluation Program (TPEP) training.
• OSPI must develop an outline for professional development and training for school staff, including classified staff (subject to appropriation).
• School Improvement Grant (SIG), Required Action District (RAD), priority, and focus schools are encouraged to provide cultural competency training for classified, certificated, and administrative staff.
English Language Learners
• By the 2019-2020 school year, all classroom teachers funded with Transitional Bilingual Instructional Program (TBIP) funds must be endorsed in either bilingual education or English Language Learner (ELL) instruction.
• OSPI will provide districts with technical assistance and support in selecting program models, instructional materials, and professional development for serving English Language Learners (subject to appropriation).
• OSPI shall identify the schools in the top 5% of schools with the highest growth in ELL populations, and notify and encourage the schools and districts to provide cultural competence professional development.
Student Data
• Beginning 2017-2018, all data collected and reported by school districts and OSPI must be disaggregated according to the federal subracial and subethnic categories, including:
Black students by African origin or native to US with African ancestors
Asian students by country of origin
White students by Eastern European nationalities
Multiracial students by the racial and ethnic combination of categories
• OSPI shall convene a task force to develop guidance on race and ethnicity reporting (subject to appropriation).
• Reduces the reportable size of a student group to 10 students, instead of 20 students.
• OSPI must develop data protocols and guidance for school districts and modify the student data system as needed.
• OSPI must incorporate training for school staff based on best practices for the collection of data on student race and ethnicity in other training or professional development (PD).
Recruitment and Retention of Educators
• To the extent data is available, OSPI must collect and make available on the Internet teacher demographic data by district.
• To the extent data is available, OSPI must collect and make available on the Internet teacher average length of service data by district.
Transitions
• The Department of Early Learning must work with OSPI to create a community information and involvement plan for home-based, tribal, and family early learning providers on the Early Achievers program.
Integrated Student Services and Family Engagement
• Establishes the Washington Integrated Student Supports Protocol (WISSP), which will (subject to appropriation):
Coordinate academic and non-academic supports.
Encourage the creation and expansion of community-based supports that can be integrated into the academic environment of schools.
Increase public awareness that academic outcomes are the result of academic and nonacademic factors.
• The WISSP will include:
Needs assessments for all at-risk students to identify the academic and non-academic supports needed.
Schools and districts must develop close relationships with providers of academic and non-academic supports and community partnerships.
Tracking of student needs and outcome data.
• OSPI shall establish a workgroup to determine how to best implement the WISSP framework (subject to appropriation):
Submit a report to the Legislature by October 1, 2017 on policies that need to be adopted or revised to implement the WISSP framework
• Reestablishes the Center for Improved Student Learning (CISL) at OSPI (subject to appropriation).
Love what we do? Support our work
Want to find out the latest in education news in Washington? Subscribe to our newsletter
Want to learn more about League of Education Voters? Find out here