At the League of Education Voters (LEV), we recognize all of the hard work that you do toward improving public education across Washington state. We are pleased to announce our Activists of the Month for May: Nancy Chamberlain and Wendy Reynolds.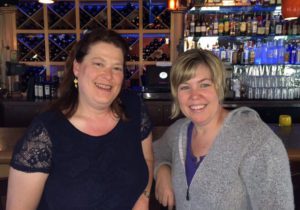 Nancy Chamberlain and Wendy Reynolds started a Facebook page about the Northshore School District that has grown from 10 members to nearly 1500 in less than a year.  It's become a lively forum for parents to ask questions and share opinions about topics ranging from school power outages to gender-neutral bathrooms, how money is spent in the district and grade reconfiguration due to the arrival of a new high school.
Nancy became a LEV activist in 2007, when her daughter was in first grade.  Nancy says, "I first met (LEV State Field Director) Kelly Munn when she came to a friend's house to talk about education funding and how our state's school system wasn't attracting people to move here to work for Microsoft."  Since then, she has been a regular at school board meetings and has worked on several standing district committees, such as the curriculum committee and start time task force.
Wendy met LEV CEO Chris Korsmo through a family relative.  Wendy says, "My son's half-day kindergarten class had 32 students and his teacher felt she couldn't do anything about it.  Chris hooked me up with Kelly Munn and I've been involved with LEV ever since.  My son is in sixth grade now."
Nancy and Wendy's Facebook experience began when Wendy worked on a page dealing with Northshore School District start times.  The group had less than 100 people involved and was focused on a single issue until Sharon Taubel, LEV's January 2015 Activist of the Month, put up an article about a different topic.  "That gave Wendy the idea to start a page involving broader education themes," says Nancy.
Right now, the Northshore School District discussion group's main focus is preserving the Junior High Challenge Program, which provides a more rigorous curriculum for all students.  Nancy says, "We need to make sure our kids have what they need to go to a four-year college.  Our district is geared to start algebra in 9th grade, which means many students don't get calculus in high school."  Nancy is encouraging concerned parents to email the school board and students are circulating petitions to save the program.
When asked about her vision for the Facebook page, Wendy says, "I want to work with the district to make the Northshore School District #1 in the state.  I've seen a lot of little changes over the years but the biggest thing is that people are paying attention now.  Social media makes it easier to get information out."
And Nancy's goal focuses on parental engagement.  In her words, "It's all about getting new parents involved.  I'm using the Facebook page to tell people what's really going on."