At the League of Education Voters (LEV), we recognize all of the hard work that you do toward improving public education across Washington state. We are pleased to announce our Activists of the Month for April: Sarah Butcher, Jennifer Karls, and Beth Sigall. Read more about their experiences as strong advocates for special education.
Sarah Butcher, Jennifer Karls, and Beth Sigall are strong advocates for public education in Washington state. Sarah and Jennifer formed the Bellevue Special Needs PTA in 2012, where Jennifer serves as President and Sarah as co-Vice President. Beth serves as the Vice President of Advocacy for the Lake Washington PTSA Council.
How it all started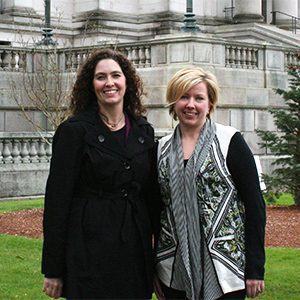 Sarah and Jennifer began advocating in the same way that many do—when their children began school. Both have children with special needs, and the unique challenges that parents and children both faced in public school began early.
When her eldest son entered kindergarten, Sarah describes her experience as being isolating and lonely, having to navigate the complexities and bureaucracies of special education in public schools with no supports. Jennifer echoed the same sentiment and added that the way that special education programs in schools tend to be "self-contained" adds to the sense of isolation, because it's impossible to interact with other parents in the same way that one might in a "typical" classroom.
Borne of this sense of isolation was a desire to reach out to other parents, organize, and advocate. That's how the Bellevue Special Needs PTA came to fruition for Sarah and Jennifer. League of Education Voters State Field Director Kelly Munn says that the work Sarah and Jennifer have done has also led to Special Needs PTAs being formed around the state.
Beth's advocacy began in 2002 after her son was diagnosed with autism at age 3. Beth started reading and learning everything she could about special education—and while her background as a lawyer allowed her to do so reasonably well—Beth also knew that most parents don't have legal training.
Seeing "profound, unfair disparities" in how children with special needs were treated versus their peers propelled Beth into advocating for students with disabilities as an attorney for several years, and for the past five years as an advocate and policy advisor.
The 2014 legislative session
Beth, Jennifer, and Sarah connected during the 2014 legislative session to work on several bills. One of the bills focused on creating a career track for para-educators, and the original version of the bill had little mention of special education, although more than half of instructional hours for students with special needs are delivered by para-educators.
In order to make the language more inclusive, they reached out to parents and families who could share their personal stories and also testified themselves. Sarah said their strategy involved "connecting personal stories to the data that's out there is critical—it's the stories that move people to action." They also worked directly with the bill's primary sponsor, Sen. Andy Hill, to help give a voice to the special education community during deliberations around this landmark bill.
Since that time, Beth, Jennifer, and Sarah have worked to assemble a team of parents to help advise work on the bill moving forward.
The trio also worked on the College & Career Ready Diploma. Sarah said that a number of other special education advocacy groups expressed concerns about the bill, but their idea was to "get a seat at the table" so that meaningful conversations would include the voice of the special needs community.
They worked with several legislators to propose a task force that would identify and consider how to best support all kids and meet their needs—including students with disabilities. With LEV's Government Relations Director Frank Ordway, they coordinated outreach to key legislators both in Olympia (where Sarah and Jennifer literally went door-to-door) and through other outreach. This allowed them to start a conversation with legislators about special education and bring their attention to it in the context of the College & Career Ready Diploma bill. (Gov. Jay Inslee ultimately vetoed the task force from 6552 in light of its inclusion in a supplemental budget bill, SB 6002.)
A third bill popped up unexpectedly during the legislative session that would have watered down notice requirements to parents for the use of isolation and restraints at school. And it was really through this bill that the strength of the trio's organizing efforts became clear. They activated their base, through their own connections and with other Special Needs and Special Education PTAs and the Washington Autism Alliance and Advocacy. As a result, the bill's sponsor, Rep. Monica Stonier, withdrew the bill due to the concerned parents who spoke up.
Kelly described how Beth, Jennifer, and Sarah worked so effectively together: "Beth, Jennifer, and Sarah are articulate, but beyond that, they try to understand where everyone is coming from and meet people where they are. They listen well, incorporate the concerns of others into their views, and offer solutions—not just voice the problems."
Beth credits the success of the legislative session to the army of parents who raised their voices: "Parents are the best advocates." The goal in effecting change when working with policymakers, she says, is to create a mindset of "not doing this is not an option"—there's simply no other choice.
Looking forward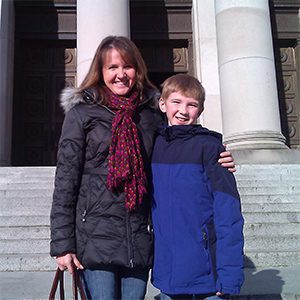 Over the next few years, Beth says that she will turn much of her focus to job training and transition. Research shows that students with disabilities excel in jobs if they start job training or apprenticeships earlier and more intensively—and training that fits the skills of the student. Beth also plans to continue her advocacy work in behalf of foster care children as a Court Appointed Special Advocate ("CASA").
Sarah and Jennifer plan to continue to grow the Bellevue Special Needs PTA, support and mentor special needs parent groups that are forming across our state, and connect people together.
All three will continue their work in education policy to ensure that the policy is inclusive of people with special needs. As Sarah put it, "If we figure out how to empower our most vulnerable students to succeed, all kids will do well."