At the League of Education Voters (LEV), we recognize all of the hard work that you do toward improving public education across Washington state. We are pleased to announce our Activist of the Month for May: Carol Solomon. Read more about her experience as an activist and advocate for her community and for Washington students.
Carol Solomon first became involved with LEV through LEV Field Organizer Andaiye Qaasim, who describes Carol as a "lifetime advocate" and the "backbone" of her community.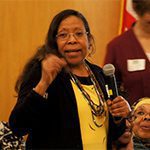 Carol raised two sons in Seattle, both of whom attended Seattle Public Schools. She worked the graveyard shift so she could be present when they finished school, meet with their teachers and principals, and make sure that they were successful in their studies. 
Her sons graduated from high school 12 years ago, but Carol says she has seen no real change in closing the opportunity or achievement gaps since that time—just people and groups talking in circles: "Seattle Public Schools has been 'dialoguing' for 60 years, and nothing has changed. I'm an 'action' person. If you take too long to act, I'll take action for you."
Carol remains optimistic and active in her community and with LEV and the Excellent Schools Now (ESN) Coalition. She has testified in Olympia on multiple bills throughout the years, including the College and Career Ready Diploma bill from the 2014 legislative session and the bill to transform school discipline from the 2013 legislative session. She currently serves on Seattle Public Schools' Equity and Race Advisory Committee (ERAC) and is active with Africatown Seattle, a consortium of nonprofits working to provide resources and support to Seattle's African and African American communities.
One of the projects she and the other members of ERAC are working on is the resurrection of Summer Academy as professional development, with a focus on cultural competency. But Carol says cultural competency should be taught to all personnel—not just the teachers in the classroom.
Another idea that Carol supports is something she calls "Teacher Swap," where teachers swap schools around the city for, say, a month. This would be beneficial, in particular, to teachers at schools in predominantly white neighborhoods who switch over to schools in more diverse neighborhoods, like those in South Seattle. This would give teachers an immersive experience where they can learn, firsthand, how to be culturally competent. "You have to change the culture at each and every school," Carol says.
Andaiye describes Carol as a generous, caring advocate for change: "She's always supporting and advocating for everyone and everything." It shows in Carol's work, and each time she testifies, she quotes James Baldwin: "For these are all our children, we will all profit by or pay for whatever they become."