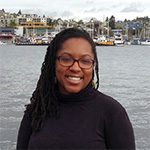 Andaiye Qaasim joined the League of Education Voters (LEV) in 2011 as a community organizer. Her last day at LEV is today. She is taking a position as Assistant Director of the South King County College Access Network.
In her time in LEV's Field department, Andaiye worked in South King County. LEV State Field Director Kelly Munn describes Andaiye as "bringing an enthusiasm and passion to her work, making it both compelling and fun."

Andaiye has been integral in LEV's work on transforming school discipline. She was a member of the group who traveled to Baltimore last year on a listening tour to see how Baltimore City Public Schools has effectively implemented school discipline reforms. Reflecting on the visit, Andaiye attributed Baltimore's success to a "cultural shift" in how discipline was administered. In an op-ed in the Seattle Times, Andaiye wrote: "Policies are an important first step, but suspensions do not decrease because we assign cut-and-dried consequences to standardized definitions of disciplinary infractions. Suspensions decrease when there are strong relationships in place between adults and students."
Andaiye also joined other LEV staffers and partner organizations in Olympia earlier this week to testify to the Office of the Superintendent of Public Instruction (OSPI) on their proposed rules for working to transform school discipline.
Prior to joining LEV, Andaiye worked in Philadelphia as a museum educator and at a local nonprofit helping to coordinate a folk arts program at a K–8 charter school; all while finishing her graduate studies in ethnomusicology. Andaiye was active in the Philadelphia community around issues involving cultural and racial equity.
We will miss Andaiye greatly but wish her the best in the next step of her career at the South King County College Access Network!