At League of Education Voters, we recognize all of the hard work that you do toward improving public education across Washington state.
We are pleased to announce our Education Advocate of the Month for July: Jennifer Muroya Thomas. Read about her education journey and the need for more educator supports.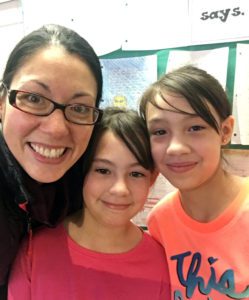 Jennifer Muroya Thomas has been part of our Vision Project, our journey to find Eastern Washington's vision for what education could be, from the very beginning. She always brought students to our events. She is a member of the Spokane Human Rights Commission, where she runs the education committee. Jennifer cares about students, especially those from communities of color and underserved populations. In particular, she has a strong connection with students who attend Rogers High School, located in a low-income area of Spokane.
Jennifer ran for the Spokane School Board last year. Although she did not win, she learned that running is just as important as winning. She met Spokane Regional Field Director Sandra Jarrard during that time, in March 2017, when Sandra organized a community discussion about diversity in education.
Jennifer's father served in the Air Force, which meant that she moved around a lot and experienced schools all over the country. "I had teachers I remember and loved, and I had teachers I remember and didn't love," she recalls. "Teachers who change the world and do incredible work invest in students' lives every day – they made indelible marks on my life."
She decided to not pursue a path of becoming an educator, because she believes it is a calling – not just a job. "When you have a great educator in place, it's a beautiful thing," she says. "I always knew I wanted to be a part of helping change education from outside the classroom, and I've been able to see an impact during these past couple of years. "
Attention Deficit Disorder complicated Jennifer's education journey, but she did not realize it until she went back to school as an adult. "It makes sense to me now," she says. "In high school, I never read a book all the way through – I skimmed them. I would sometimes show up for class, and sometimes I wouldn't."  In her junior year, Jennifer remembers her first-period chemistry teacher being angry because she was passing her class with an A. "I didn't enjoy mornings, so I wouldn't go half of the time." The chemistry teacher called Jennifer's mother and explained that she was frustrated because Jennifer had so much potential, and wasn't showing up to class on a regular basis. "But it wasn't about me passing her class – it was about my potential," she says. "That's when I began to realize, even as a young person, that education is so much more than taking tests and memorizing information. It's about developing a person."
Looking back on her education path, Jennifer wishes she had more teachers who genuinely were invested in their students' lives. She now has four children – three in elementary school and one in junior high. Through being in her kids' classrooms and reflecting on her own experiences, she believes that as a teacher, you don't get to just speak one language. "I have four kids and I speak four languages because you need to communicate with each kid in a different way. Teachers have 17-27 kids, so they need to speak all those different languages. Teachers should see this as opportunity to 'get' to work with these kids. For the good teachers, they don't just look at it as a job. It's a passion."
"A tiny impact has a long-lasting effect, even when it's from someone who is not a main educator"
When asked how she would change the education system, Jennifer says that we need to support educators – not just teachers, but also paraeducators, playground supervisors, vice principals, school counselors, lunchroom staff, and janitors. "It's a team," she explains. "All the adults at a school have the opportunity for impact, be it good or bad. A playground supervisor once yelled at one of my daughters, and my daughter tried to avoid her for the rest of the school year. A tiny impact has a long-lasting effect, even when it's from someone who is not a main educator." Jennifer would like educational staff to have access to more professional development and training, provided that it is not cumbersome and is offered as a support piece.
One of Jennifer's daughters excels in math, yet she has no friends. "Her first grade year was so horrendous that I was tempted to figure out something else for her, "Jennifer says. "But her second grade teacher was so nice, so I told her, 'I'm sorry, but my daughter will probably cause you to grow some gray hairs because of her challenges.'" Jennifer's daughter needs to move in order to focus on schoolwork, and becomes frustrated when she feels as though she is failing. "She needs affirmations, not discipline, and if you are able to provide breaks, she can readjust and reincorporate herself back into class activities," Jennifer adds. "I gave her teacher all those little tips I know as a mom. She was a godsend. At the end of the year, I cried because I want her back next year."
Jennifer's daughter hated school. Every day last year, she told her mother that she did not want to go. "We had made a deal that we were going to give it one more year, and if she really hated it, we would figure it out, Jennifer says. "And this year, she loved school – it was a 180-degree turnaround. It was because of Ms. McDonald in that classroom. And because my daughter was supported by Ms. McDonald, then she was an easier student with all the other students in her classroom. She has one of those personalities that fills the room. But when she's not having a good day, nobody's having a good day." Because Jennifer's daughter was engaged, supported, and affirmed, she was able to be kind to her peers and keep striving, even when her classmates weren't as responsive as she had hoped they would be. Jennifer says, "When we support teachers, everybody benefits."
Jennifer would also like to see more counselors and social workers in schools. "Not traditional school counselors that have mainly administrative roles," she adds. "I'm talking about social workers who are there to liaise with families and not just be support for students, but also be there for parents and teachers."
When asked why she connects with League of Education Voters, Jennifer says she likes that we organize conversations that need to be had, in order to think outside the box and create possibilities that do not yet exist. "We might not see the change we hope to see in our lifetime, but we can't quit trying to make that change," she says. "I appreciate that Sandra and other LEV staffers are willing, even when it's an uphill battle, to continue pursuing the dialogue."
Love what we do? Support our work
Want to find out the latest in education news in Washington? Subscribe to our newsletter
Want to learn more about League of Education Voters? Find out here