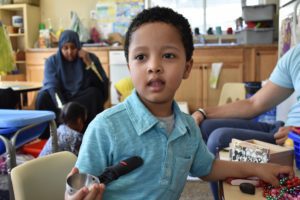 South Seattle's Voices of Tomorrow East African Development Center began in September of 2017 and hopes to become the country's first certified dual language preschool in Somali. Five languages besides English are currently spoken: Somali, Amharic, Oromo, Arabic, and Vietnamese. English appears only on Mondays and Wednesdays, and Somali is spoken on Tuesdays and Thursdays.
Honoring Somali culture and language is the center's primary goal. Director Zam Zam Mohamed says, "There is plenty of opportunity to learn English, but not so many opportunities to learn Somali." By focusing on Somali, family structures are maintained at home instead of succumbing to challenges faced by many immigrant communities, where children become translators for their parents and devalue their parents' cultures.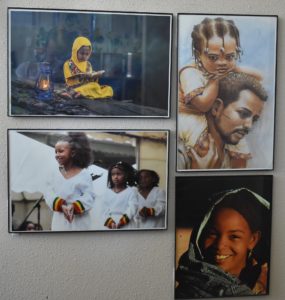 Photos of East African children and families adorn the walls, along with posters showing people with different emotions. Students learn Somali songs and practice saying the days of the week, numbers, and weather conditions in Somali.
At the center, there are three zones for activities: one is a library with books and a drawing area, and other activity stations include painting, dough, LEGOs, crafts, role playing, board games, blocks, and toy trains. A sensory table with Styrofoam balls floating in water stands in one corner, and an outdoor play area allows for work on gross and fine motor skills, along with a space to plant vegetables in the spring, such as carrots, tomatoes, and lettuce for Earth Day.
The center's program is based on a daily routine. A typical day starts with circle time, check-in, lunch, free choice, then outdoor time, small group activities, story time, and finishes with a snack before the students go home.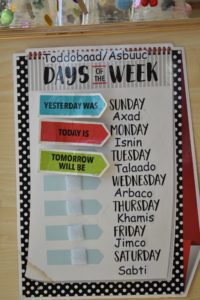 Voices of Tomorrow had to create their own curriculum since it does not exist in Somali. Recent lessons spotlighted Earth Day and recycling. "Fridays are dedicated to creating this curriculum and for lesson planning," Zam Zam says. "The school works the entire month of August on planning."
Finding staff who can both read and write Somali has been a challenge. The center succeeded in finding two Somali teachers from the community, but Zam Zam may have to use a hybrid solution moving forward. "A possible workaround is to hire one teacher who can read, and another who can write," she explains.
The center has a family support specialist, who constantly hears the local community say that they wish Voices of Tomorrow operated a kindergarten facility. There is also need for a summer community of classes since graduation happens at the beginning of June. The University of Washington's Evans School of Public Policy is working on a parent satisfaction survey to influence daily practice.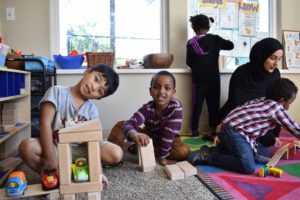 A new Seattle preschool on Martin Luther King Jr. Way is scheduled to open in September. The facility has been secured, and Voices of Tomorrow is now doing recruitment, with space for 40 kids. It will be different from the first school since it will be based on community needs and demographics. The Seattle Universal Preschool Program: City of Seattle-Department of Education and Early Learning (DEEL) funds both facilities.
Read our Early Childhood Education 2018 Issue Brief
Love what we do? Support our work
Want to find out the latest in education news in Washington? Subscribe to our newsletter
Want to learn more about League of Education Voters? Find out here