At League of Education Voters, we recognize all of the hard work that you do toward improving public education across Washington state.
We are pleased to announce our Education Advocate of the Month for September: Candace Harris. Read about her experience as a strong advocate for early learning in rural Eastern Washington.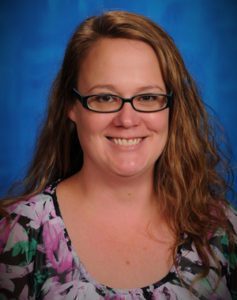 Candace Harris is Director of the Valley Early Learning Center, part of the Valley School District about 45 miles north of Spokane. Because Valley is a rural school district, many of the families live in poverty. Representing rural Washington, Candace attended the Education Vision Project that League of Education Voters convened in March, where stakeholders from the Spokane region envisioned what our education system could look like. Candace has a passion for working with kids and understands the importance of teachers receiving the training they need to engage students with Adverse Childhood Experiences (ACEs), and she would like to see Social Emotional Learning (SEL) incorporated into school practices.
Rural districts like Valley faces different challenges than their urban counterparts. Candace says, "There's a lot of isolation out here – your school or early learning center can be 20 miles away, so schools end up becoming the hub of the community." In rural areas, schools take the place of community centers. She adds, "In rural communities, we wear multiple hats, like a lot of people in education do, but it does end up looking a little different." Candace is the Director of Valley's Early Learning Program, is a family advocate and a family engagement coordinator for toddlers through 2nd grade, and she also does home visiting. "Resources are spread pretty thin," she says. "If you think about our area, there isn't even a pediatrician. The closest one is 30 miles away in Riverside."
Candace has lived in Stevens County her entire life. She started substituting as a para pro at Valley School District and worked to develop an early learning program. She explains, "We had childcare for employees, and the next year, we started doing the Early Childhood Education Assistance Program (ECEAP), we then became licensed as a childcare center to serve as many people as we could. Besides us, there isn't any other licensed childcare in our area."
Candace got her degree in early childhood education, taught preschool for several years, and then kept developing the Valley School District's early learning program. She started offering parent education courses and family engagement opportunities. In her tiny rural area, she currently has 43 children ages five and under at her center, in a district where there are only about 210 students in grades K-8. She is trying to help everyone who needs services, but there are still families who don't qualify for assistance from the state and don't earn enough money to pay for private childcare, so there is a gap.
When asked what we can do to include everyone who needs services, Candace answers that we need more facilities. "At this point, my waiting list is 15 kids deep, so if I had more space, I could serve more kids," she says. "And if private pay childcare was more affordable, we could serve anybody who needed it."
Candace has a 17-year-old and a 13-year-old. "They love living here – they're country kids, and my son loves to hunt and fish." Her plan is to send them away for college because there are not many opportunities for children in Valley. She says, "I was lucky. I got to stay home with my kids when they were younger. I found myself in the same situation that many families face now. If I went to work, I couldn't have afforded to work because childcare would have cost too much, and we would have lost money."
When Candace was growing up, the entire community felt like a family. "Everywhere you went, you knew everybody, and everybody knew you, so you always felt safe." But looking back now as an adult, she realizes that she had pretty poor health care. "We didn't go to the doctor," she says. Candace always wanted to live in Valley and was driven to serve her community and help students like her. She says, "Even if the desire of the family is to have their children stay here when they graduate high school, we could do a better job of telling kids that education is important and encouraging higher education options."
If Candace could design an education system from scratch, she would like to see a better choice between going to work and staying home. "It would be great if we could have an ECEAP-style high quality program for kids from birth to three years old," she says. "There needs to be a high quality place for people to take their young children, so that they can get off the system and get our communities working." Also, she believes every child needs to feel like they belong. "Our kids need to be in quality places."
About League of Education Voters, Candace says, "We share a vision and we want to create places where kids feel welcome and part of something bigger than themselves." She suggests we need to make sure the education system is working for everyone, most importantly students, but also including teachers, administration, and staff.  Candace adds, "School should be a fun place – a place you look forward to going to, for everyone involved."
Love what we do? Support our work
Want to find out the latest in education news in Washington? Subscribe to our newsletter
Want to learn more about League of Education Voters? Find out here