Greetings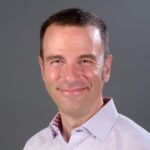 It's back to school time at my house, and that means the morning rush is in full swing – searching for that missing sock, packing up lunch, and making sure my third-grader has everything he needs to have a good day. All across Washington state, students like my son are running around to get to their classroom, ready to learn and hoping to receive what they need to have a good day, a good school year, and a good life.
League of Education Voters is excited for the new school year, too. We are hard at work advocating for every student to receive a great public education and the support necessary for success. For some students, also just like my son, the need is greater than quality instruction, curriculum, and classroom materials – they may also need mental health counseling, trauma-informed care, supplemental nutrition, or individualized learning assistance.
As you know, many Washington students do not receive these critical services, and the outcomes are devastating. Last year alone, more than 14,000 high school seniors in Washington did not graduate. Students who don't graduate from high school are twice as likely to face unemployment throughout their life, and several studies indicate higher rates of mortality for these students, as well.
Support us today and join the voices demanding critical system transformation so Washington's students receive the support they need to thrive, innovate, and become the leaders of tomorrow.
When you are rushing out the door tomorrow morning, think of the 1.1 million kids in Washington doing the same thing – they deserve, and will have, a brighter future with the help of League of Education Voters supporters like you.
Read below for more about our work.
Thanks again for all you do for Washington's kids. We're all in this together.

---
LEVinar: Next Steps in School Discipline
Joshua Lynch and Calandra Sechrist from the Office of the Superintendent of Public Instruction (OSPI) will share updates regarding student discipline and implementation of HB 1541. Moderated by League of Education Voters State Field Director Kelly Munn. Register now
---
Tukwilla GLAD Trains Teachers on English Language Learning
Our legislative scorecard highlights some of our key legislative priorities and the results. We know that the end of a legislative session or the passage of a bill is not the end of our work, but rather a step in a continuing journey to bring every Washington student an excellent public education – from early learning through higher education – that provides the opportunity for success. Read more
---
Back to School is the perfect time to give to League of Education Voters!
Our vision is that every student in Washington state has access to an excellent public education that provides the opportunity for success. Support our mission with your gift today! Donate now
---
Kids Co. Demonstrates Chopped Chops
Each week, the summer day camp program at South Shore focuses on a different theme, from detective skills, to learning social skills through board games, to science experiments. Arik Korman, along with League of Education Voters staff and board, had the pleasure of joining them during their Sweet Tooth week, which featured their take on the popular Food Network Chopped competition. Read more
---
Advocate of the Month: Candace Harris
Candace Harris is Director of the Valley Early Learning Center, part of the Valley School District about 45 miles north of Spokane. Because Valley is a rural school district, many of the families live in poverty. Read more