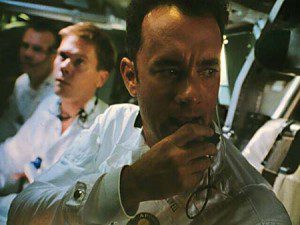 Last week, LEV's CEO Chris Korsmo gave a "TED Talk" at the Seattle Chamber of Commerce Regional Leadership Conference. Below is an excerpt from her talk:

Over the past few years there has been a lot of attention paid to education and how we as a nation are doing compared to others. Some of us have been down right freaked out by the decline in results and the fact that this generation will be the first in our nation's history to be less educated than our parents. Some have called for  a "sputnik moment"  like when we chased the Russians into space and beat them to the moon. We need to find that uniting mission that kicks us in the pants and gets us moving.
I'd argue that we need an Apollo moment.  Apollo 13 to be precise.
In one of the more intense moments of film Apollo 13, a group of engineers and designers and others in the pocket protector set sit in a room wringing their hands about how to save the men aboard the ship.  The work is focused on figuring out how to restore electricity and stay powered up to get the space capsule back into earth's orbit. But they discovered something more urgent; the men are literally dying from lack of oxygen.  The engineer need to build a filter that fits a certain size and shape, to remove CO2 from the air, so the men can breathe. The catch? They can only use what's on board the ship.
So a box of odds and ends is dumped on the table  At first there's a bit of geek  grousing – we can't possibly, and how do you expect us to, blah, blah. But they get down to work. They're focused,  there's no blame, and the team solves the problem. The crew is saved.
I think of this scene whenever I hear of a school or district that has dumped its box upside down to solve an urgent need. Like in Bridgeport, a rural and mostly low income school district primarily serving Latino students that managed to get 100% of their kids to graduate from high school – and that got all of their graduating seniors  – 100% of them – accepted into college. Or in Federal Way where Advanced Placement is the default for kids who pass their state tests. They don't opt in – they have to opt out, with their parents. Or the investment in early literacy in Auburn, that has their third graders knocking it out of the park in reading. These school leaders addressed the urgent while simultaneously looking at the bigger system issues.
These districts didn't wait for Washington Supreme Court decision or a check from a wealthy benefactor. They just got busy working the problem.
We need more of that.
Let's take the Apollo approach on a different issue; When I moved here in 2007, the state board of education was debating graduation requirements and how to get kids college and career ready. Despite passing new requirements at least twice, we're still talking about it. In the five years that this conversation has ebbed and flowed, we've lost 60,000 kids to dropping out, we've seen college remediation climb, and our economy's demand for more rigorous job preparation spike.   In other words, while we did nothing to address the urgent, the system got worse.
If we had an Apollo moment on this topic, we'd start by taking one urgent step – something done while we're fixing the ship. How about, making sure all kids get algebra in 8th grade? If kids are proficient in Algebra before they leave in middle school, implementing more rigorous math requirements in high school wouldn't seem so hard. And then maybe upping the ante for high school graduation wouldn't seem impossible.
We have the box on the table. And the kids are in the capsule. The question is; What are we going to do about it?