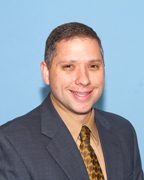 In a special ceremony at the EMP, State Superintendent Randy Dorn named Zillah High School science teacher Jeffrey Charbonneau Washington's 2013 Teacher of the Year.
Jeffrey Charbonneau is a National Board Certified Teacher and has been teaching at Zillah High School for eleven years. During his tenure at the school, Mr. Charbonneu has been an integral part of creating STEM courses, allowing students to earn college credit. He also created a Robotics Challenge and a Hiking Club and serves as an advisor to several student clubs, including yearbook.
In a statement to the press, Zillah High School Principal Mike Torres said, "I am fortunate to have Jeff as an instructor at Zillah High School. But I am even more fortunate to have him as a teacher for my own children. Both my son and daughter have taken classes from Jeff and they have expressed that he is the type of teacher every student deserves to have. He is innovative, enthusiastic, challenging and motivating. He takes a personal interest in every student. As a parent, I see how Jeff has motivated my children, not only to learn the content, but also to become advocates for learning in general. It is what makes him a standout."
Congratulations to Mr. Charbonneau and all of the nominees!
Find out more here.