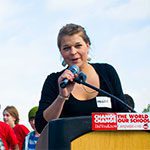 Maggie Wilkens joined the League of Education Voters (LEV) in 2009, initially as a part-time intern and ultimately as our State Field Coordinator. She recently left our organization to take a position at the Parents Union as their Director of Marketing, starting today.
In her time in LEV's Field department, Maggie worked with diverse communities throughout Washington, including student populations and through online organizing. Maggie was instrumental in starting the conversation about race, equity, and disproportionality in school discipline at LEV. She believes that her experience growing up and attending school in Seattle Public Schools gave her a ground-level view of structural inequity.
Maggie is a basketball coach for Lakeside School in her spare time, and she credits her experience as a coach with teaching her a lot about community organizing. Her skills in organizing, combined with her commitment to racial and social justice, allowed Maggie to make a huge impact in both the organization's direction and in the lives of those she worked with. Maggie was a key member of LEV's current campaign on transforming school discipline policies, which led to the introduction of statewide legislation in 2013 to keep more kids in school and end the school-to-prison pipeline. According to LEV's State Field Director Kelly Munn, "Maggie can do anything you ask her to do. Maggie is determined and thoughtful about her work and she does not allow roadblocks to deter her from her goal."
Maggie had a huge impact on our organization, and we will all miss her greatly, but I am also thrilled that she has found an organization where she can continue working toward improving public education for all of our kids. Please join me in wishing Maggie the best in her next adventure at the Parents Union!