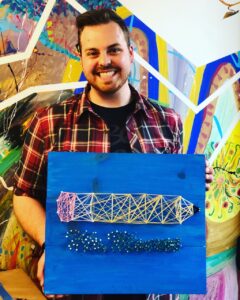 As the Puget Sound Educational Service District 121 Regional Teacher of the Year, serving as a spokesperson and representative for teachers and students, my message is a call to action to elevate student voice. Stuvoice.org, the by-students, for-students nonprofit advocating for student-driven solutions to educational inequity, defines student voice as: "recognizing and acting upon the fact that students are the primary stakeholders of our education and should be partners in shaping it." Student Voice's work is guided by the belief that "equity and justice within our schools will only be achieved when power is meaningfully shifted towards young people, particularly toward students with identities who are most marginalized by our nation's education system."
When reflecting on stuvoice.org's mission statement as an elementary educator, the initial thought of giving our youngest students the power to make decisions within our classroom communities is… startling at best. However, it is important to pause and recognize the word power should not directly translate to full and total control, in any capacity of its context. Within the classroom, power should be thought of as emphasizing continued elevation of ideas and feedback from our students.
As professionals, we reasonably expect to receive autonomy and respect from our superiors. If we feel this way as adult humans, is it not reasonable to infer the younger humans we are educating have the same desires? Most simply, dictionary.com defines power as: "the ability to do something or act in a particular way." This sounds an awful lot like typical classroom learning goals and expectations. If collectively as educators we are expecting our students to authentically engage each school day, is it truly reasonable to demand they do so without providing opportunities for input in their learning? Let's think of it in this way: How would that go for you during professional development or a peer planning session?
When I am setting up my classroom structures for a new year, it is imperative I make time to consider the potential consequences of creating an environment that focuses too much on a teacher-led model, versus a more student-led foundation. It is important to clarify this does not mean I have no say in how my classroom operates and how my students engage with myself and each other. Rather, the intent is for my students to also state their expectations of me and their peers, in a collaborative approach to laying the foundations for our classroom community's behavior norms and expectations. In practice, this provides students with opportunities to implement a safe, inclusive, and respectful community they are proud to be a part of.
In its most basic form, student voice can be as simple as providing students opportunities to choose their own rewards or providing choices when demonstrating their learning on a particular topic. On a larger scale, individuals elected or placed into positions of power can prioritize listening to and acknowledging the adolescents they are willing to impact and speak for. When student voices are not considered, we see harmful consequences at all levels of our education system.
Lawmaking bodies across the nation continue to enact harmful laws impacting the inclusivity of public education, all while student perspective continues to remain an overlooked narrative. We have seen this in the form of book bans targeted at removing LGBTQIA+ & BIPOC inclusive titles from public schools, calls to reframe historical accuracies as critical race theory (CRT) that should be removed from student learning, and a perplexing villainization of social emotional learning (SEL) curriculums as violent and unhealthy. Each time a new talking point arises in the never-ending cycle of attacks on public education, we hear the same white-washed, cis-gendered talking points. In the end, the loudest voices continue to silence the youngest and most marginalized voices of students these uneducated decisions are affecting.  
My lived experiences as a gay male have enhanced my call to influence the impact of acceptance, inclusion, and unconditional support in our schools. As a student, I never saw myself in my educators or truly felt acknowledged or heard. I became an educator to be a voice for those who are too often silenced by discomfort or misrepresentation. I strive to create a community where every student feels heard, is embraced unconditionally, and sees themselves reflected in their learning. I firmly believe that this is a meaningful and personalized way to communicate a broader, general public-focused message supporting the elevation of student voice.
When reflecting on ways to share how I put my message into practice, I reflect on strategies I use to elevate student voice within my own classroom. I intentionally create space for students to collaborate and craft student-created behavior norms, grading rubrics, classroom charters, and personalized mood meters. It then becomes my mission to ensure these student-crafted models lead our classroom community throughout the school year. I monitor this regularly by asking myself reflective questions such as:
How do I know I have lovingly engaged with each student today?

Did I greet every student at the door and engage them?
Do I need a 1-on-1 connection?
Has each student received the support they need from me today?
Are my teaching practices equitable and affirming?

If not, what am I going to change in this moment?
Do my reactions practice restorative justice?

If they do not, how will I repair and recenter?
What voices have power in this conversation? Who is not being heard?

How can I elevate silenced or unheard perspectives to provide a well-rounded narrative?
Are my grading practices in alignment with student-crafted rubrics?

Have a been biased with my grading marks?
Am I ignoring student expectations of myself?
Have I made my expectations explicit?
Am I following our collaborative behavior norms and discipline agreements?

Are my expectations consistent and fair?
Are all students receiving fair and impartial treatment?
It is no secret that the COVID-19 pandemic has made a global impact on youth. We frequently hear of the burdens placed on families, teachers, and educational practices, yet the burdens placed on adolescents to resume their pre-pandemic education are rarely addressed. Our students deserve better and are begging us to do better. We simply need to acknowledge their pleas for support.
Shane Monroe (he/him/his)
5th Grade Classroom Teacher – Wilburton Elementary – Bellevue School District
2023 Regional Teacher of the Year – Puget Sound Educational Service District 121
Love what we do? Support our work
Want to find out the latest in education news in Washington? Subscribe to our newsletter
Want to learn more about League of Education Voters? Find out here