By Lizzeth Mancilla
Engagement and Policy Intern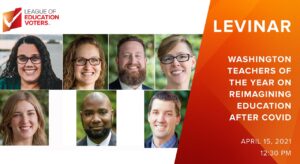 As we enter the final quarter of this historic and challenging school year, students, families, and educators across Washington are navigating remote, hybrid, and modified in-person learning environments. But what should education look like when all schools reopen?
In this webinar, Washington state Teachers of the Year Brooke Brown (2021), Amy Campbell (2020), Robert Hand (2019), Mandy Manning (2018, and the 2018 National Teacher of the Year), Camille Jones (2017), Nate Bowling (2016), and Lyon Terry (2015) shared what they are hearing from students, families, and colleagues in their community on how the 2020-21 school year is going, how they recommend reimagining education based on what they have learned from teaching during the COVID pandemic, and answered your questions.

What are you hearing from students, families, and colleagues in your community on how the year is going?
Amy Campbell recognizes that there is a lot of confusion and uncertainty in her community. This year has been stressful for students, families, and educators. On top of that, there is a sense of uncertainty from educators in building a system that will be successful and serve students moving forward. 
Lyon Terry is surprised that people are heavily focusing on the learning loss instead of looking at the bright sides. The COVID pandemic has provided an opportunity for multiple modes of learning and teaching. Although the pandemic resulted in the exploration of remote learning, hybrid learning, etc., educators have seen how well some students are responding to it. Similarly, Robert Hand added that he understands it's easy to look at the negative and what has been lost, but that teachers should take advantage of what they've learned and gained in order to become better teachers and reimagine education. "What are the things that I've learned over this time that I didn't do before? What are the things I'm going to come back and embrace and use to be a better classroom teacher, colleague, and support for all the people I am with?" he added. 
The topic of learning loss and a continuous deficit mindset has caused a lot of frustration for teachers as well. Mandy Manning believes this thinking suggests that educators don't want to work hard "when in reality educators are working twice as hard." Throughout the pandemic, teachers have had to learn how to navigate different platforms, provide education, and quickly adjust to changes in learning models. 
"There's countless hours being committed to the education of young minds… Educators are extremely dedicated to their kids and to their community and have bent over backwards to ensure kids are getting what they need," she said. 
Brooke Brown emphasized that the pandemic showed us the school system pre-COVID didn't work for every student. She believes schools and the community need to have the humility to listen in order to create long-lasting change. It is important for educators to remove barriers to reflect on what students and the communities need, "not what we think they need," she said. In addition, Brooke asks for students, parents, and the community to be included in future discussions about the direction schools are taking, including reopening plans to "utilize the wisdom and knowledge [they] bring and empower what they need." 
Based on what you've learned from teaching in the COVID pandemic, how would you recommend reimagining education?
Amy hopes we continue integrating technology into the education system. Besides the benefits of multiple modes of learning, technology has allowed teachers and school administration to reach parents. Amy felt she could "be in families' homes" through Zoom calls where teachers and parents shared ways they are supporting their students' learning. It has also provided opportunities for members of the community to be a part of school board meetings by giving them the option to join remotely. Therefore, Amy believes we need to prioritize the internet as a utility. Prior to the pandemic, many students had to use a cafe's internet to submit a paper or type it on their phone because they didn't have a laptop at home. 
"March 13th happened and we started handing out devices because everyone is going to need something… where was the recognition before that? The technology is a part of our educational system and if everyone doesn't have it, not everyone is getting the same opportunity," Amy said. 
Lyon shared that some of his students of color told him they're enjoying remote learning because they aren't facing microaggressions as they do with in-person learning. School needs to be a place where students feel safe and want to return, Nate Bowling added. Therefore, it is important for schools to focus on culturally responsive teaching. This includes teachers learning about their kids and families, what matters to them, etc., in order to tailor lessons around "those things rather than around what I as a white guy might deem as the right thing for them to learn," Lyon said. Brooke also added that all educators, including school staff, school board members, and administrators should participate in anti-racist training. 
Mandy added that she is anxious about how schools will look in the near future given that they are prescriptive. Schools have a certain way of doing things and tend to "be uncomfortable moving out of that line of thinking." She fears the push for in-person learning is going to force schools to go back to how they functioned pre-COVID. Nate added that this pandemic is an opportunity to reimagine schools and that it would be a disservice to students to say, "'[The] pandemic is almost over. Let's get back to doing the same things we were doing in the past,' that we know weren't working." Nate and Mandy understand the rigidity of schools will create a resistance to change in the school systems. However, the willingness to change is a crucial first step. "If we don't strip it away, we can't rebuild," Mandy said. 
Lastly, similar to Brooke, Camille Jones hopes schools and administrators continue learning how to engage and collaborate with families authentically. "It's not just about: How do I get communication out to families? How do I hear from them? It is more: How do I really listen deeply to the priorities that they have and value the knowledge and experience that they hold for their students as an integral part of the decision-making process?" she said. It is important to listen to them as leaders.
Watch the full LEVinar recording here (closed captioning is available in English and Spanish).
Love what we do? Support our work
Want to find out the latest in education news in Washington? Subscribe to our newsletter
Want to learn more about League of Education Voters? Find out here