By Lizzeth Mancilla
Engagement and Policy Intern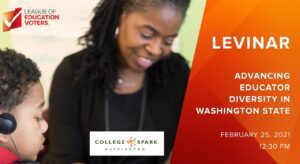 In this webinar co-presented with the College Spark Foundation, we have assembled a statewide panel including student activist Charlie Fisher of the Washington state Legislative Youth Advisory Council, founder of Unite Ridgefield, and advocate for legislation to diversify school curriculum, Alexandra Manuel, Executive Director of the Washington State Professional Education Standards Board, Dr. Mia Tuan, Dean of the University of Washington College of Education, Dr. Margarita Magana, Director of Outreach & Recruitment of the Heritage University Education Department, Dr. Goldy Brown III, Director of the Principal Certification Program at Whitworth University, and Dr. Gisela Ernst-Slavit, Professor of English Language Learners at Washington State University Vancouver Campus College of Education. Panelists discuss how educator and principal prep programs work to undo the injustices that have led to the current disparities between the diversity of students and educators, what more is needed, and how we can work together to support and sustain a diverse education workforce in Washington state. They also answered your questions.
There's a significant disparity between the diversity of Washington students and educators. BIPOC (Black, Indigenous, and People of Color) youth make up nearly half of our student population, while more than 90% of our teachers and education leaders are white. Studies show that BIPOC students who are exposed to teachers who reflect their race and ethnicity have higher graduation rates, and when more of the adults in schools reflect the communities they serve, deeper, more authentic school/community partnerships become well-positioned to transform schools in ways that dismantle racism and benefit from the wisdom and vision of families. In this moment of racial reckoning for our country, it is more important than ever to grow, sustain, and advance the priorities of BIPOC educators.
Dr. Warren Brown from the College Spark Foundation emphasized that advancing educator diversity in Washington state isn't a new effort, rather a renewed one. It will lead to better student outcomes, close opportunity gaps, and prepare students to succeed in an increasingly diverse society. With much work needed ahead, "it takes change… community… and collaboration," he stated.