English Language Learners are engaged in an innovative way using methods developed by Project GLAD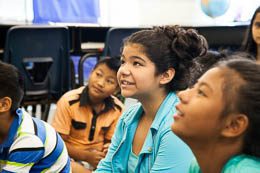 The Tukwila School District, one of the most diverse in the country, is in its third year of training elementary school teachers to engage English Language Learner (ELL) students in an innovative way. Project GLAD (Guided Language Acquisition Design) was field tested for nine years by the United States Department of Education and has been deployed across the country for more than 20. It is a professional development model in the area of academic language acquisition and literacy, designed to specifically target and promote language skills, academic achievement, and cross-cultural skills with groundbreaking efficiency.
At Tukwila Elementary School, trainer Jennica Kantak taught 20 fourth-grade students with support from Vice Principal Carla Carrizosa in front of an audience of about 20 elementary teachers from across the district. So far, 72 of Tukwila's 90 elementary school teachers have taken part in GLAD trainings, which are funded by the state's Transitional Bilingual Instructional Program (TBIP) and federal Title III money.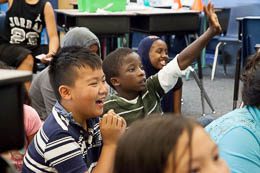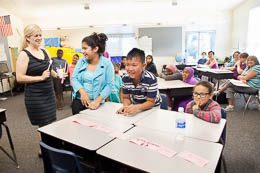 In this particular English Language Arts summer school remedial class, Jennica stressed to her students, whom she addressed as scholars, the importance of 21st-century collaboration skills. The morning began with the mantra of "Show respect, make good decisions, and solve problems." On a colorful chart, she listed how cooperation looks, highlighting actions such as using a positive tone of voice, keeping voices off, focusing on the speaker, sharing resources, and being brave, patient, kind, flexible and organized.

As tools to manage classroom engagement, Jennica recognized scholars who demonstrated model behavior by designating them as "scouts" to reward other scholars making good choices, she divided the class into color-coded teams, and awarded points to those teams in the spirit of Harry Potter's Hogwarts School.
The class began by practicing parts of speech by reading aloud and then deconstructing The Immigrant Chant (Immigrants Here, There) by Heidi Busk:
Immigrants here, immigrants there
Immigrants, immigrants everywhere!

Curious immigrants scrutinizing resolutely
Industrious immigrants working vigorously
Productive immigrants crating craftily
And new immigrants arriving eagerly

Immigrants in the cities
Immigrants around the orchards
Immigrants within our communities
And immigrants throughout the state

Immigrants here, immigrants there
Immigrants, immigrants everywhere!

Immigrants! Immigrants! Immigrants!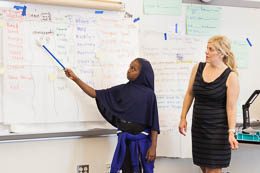 Using the noun "immigrants," groups of scholars formed sentences and then sang their creations to reinforce sentence construction that involved two adjectives, the noun, a verb, an adverb and prepositional phrase. One example earned the green team ten points: "Happy thirsty immigrants build nervously around the world."
"Region" was the word of the day. Whenever Jennica would say "region," scholars responded by repeating the word and its definition. Jennica employed a graphic organizer to teach the concept, focusing on the Puget Sound Lowlands. Different characteristics of the region, such as geography, climate, history/people, economy, and interesting facts, were each color-coded by category to aid recall. Tukwila Elementary Vice Principal Carla Carrizosa explained, "It is difficult for ELL students to learn to write, and the colors really help."
The payoff happened when the teams played writing games. Each team came up with one sentence from the category of their choice, and each scholar took a turn writing. Everyone gathered together on the classroom carpet to read their work aloud and then revise their sentences. Acting in collaboration with facilitation from Jennica, the class composed topic and closing sentences, and together came up with:
"The Puget Sound Lowlands (PSL) is a distinct and unique region in Washington state. It was mostly forest, but now there are mostly towns and cities like Seattle, Olympia, and Tukwila. In this region, it rains 154 days per year. Some people in the PSL are Native Americans because they migrated nervously from Asia to Western Washington. The economy provides manufactured goods from Boeing and Microsoft as well as providing jobs for people. An interesting fact is (that) the Space Needle was built in 1962 for the World's Fair. That is why the Puget Sound Lowlands is a good place for immigrants to live."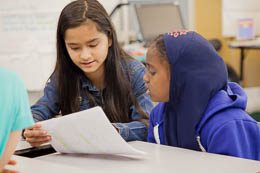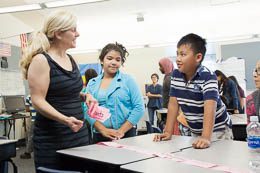 With broad smiles all around, Jennica and her scholars performed a celebration dance to close out the morning. "I really enjoy being a GLAD trainer," says Jennica, "And I wish GLAD could be in every school across the state."
Love what we do? Support our work
Want to find out the latest in education news in Washington? Subscribe to our newsletter
Want to learn more about League of Education Voters? Find out here