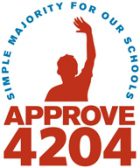 You did not see that headline last week, but you should have.
You may have read reports about levies in a particular district or county, but there was precious little attention paid to what happened all across the state. What happened was that voters overwhelmingly supported their local schools and voted for $2.6 billion in taxes to support education.
Let's say it again: Voters overwhelmingly supported their local schools and voted for $2.6 billion in taxes to support education.
Out of 295 school districts, 157 went to their local communities seeking support to the tune of over $2.7 billion dollars in property taxes. Out of the 157 school districts that put levies on the ballot, 152 of them passed. In a time where we hear that voters will not support revenue, the local election results stand in stark contrast to that narrative.
In most cases, local dollars make up around 25% of the total operating costs of a school district. We are a far cry from local levies being about the "extras" they were originally designed to provide. As the economic crises drags on, the importance of local levies has increased. Local communities have responded to that crisis with overwhelming support for their schools.
Simple Majority, the gift that keeps on giving
It seems odd, but Washington state has a fondness for requiring super majorities when it comes to revenue. It used to be that local schools had to receive more than 60% of the vote to secure a local operating levy. Thanks to Simple Majority (also known as I-4204, passed in 2007) we returned to the most basic of democratic principles, majority rules. That means that 51 levies representing $1.2 billion have passed because of Simple Majority. That is $1.2 billion to support the students in those districts that they otherwise would not have received.
Our support for majority rule extends to the state Legislature, where the law currently requires two-thirds majority to raise revenue. The I-1053 lawsuit, which we filed along with the Washington Education Association and other plaintiffs in October, will have its first hearing in March. We hope that the combination of the McCleary ruling and the eventual ruling on I-1053 will clear the way to fund our schools at the level they need, and local voters seem prepared to support.