By Maria Esther Zamora, English Language Development teacher at Spokane Virtual Academy
Guest Blogger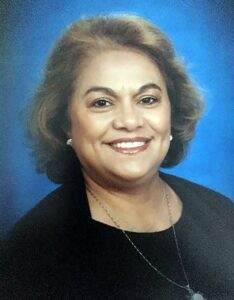 How can we reduce the disparity between the number of students of color in our community versus the educators of color across the K-12 and higher education systems? This has been the question that I have posted to colleagues, administrators, and community leaders when having courageous conversations.
I have been a proud educator of color in Spokane for 26 years. I am a first-generation immigrant from Mexico, who has worked in various educational systems, from being a professor at Graduate School and University level to now being in the K-12 public education system. I had to reinvent myself when I moved to this area, learn English, and go back to graduate school to get my Teaching Certification credential while raising my family and working full time. It was a difficult endeavor, but not as challenging as to survive in a predominantly white professional field. I have persevered through all kinds of barriers to achieve my most important professional goal, which has been to inspire my students to believe in the power of education to achieve freedom.
I have always felt that there is no better way to transcend than to teach what you know, which is how to maintain your cultural values and contribute to building a multicultural community that embraces minorities in this noble professional field. As a mother of bicultural children and an advocate for immigrants and refuge students and families, I have believed that it is imperative to have more role models and educators that look like us. Furthermore, I have seen the greatness that comes from demonstrating our excellent standards and work ethics to collaborate hand in hand to educate our community.
When trying to find solutions to reduce the current disparities that exist, there was no better answer than to gather others with the purpose of starting an anti-racist movement. In the first instance, we were a small number of people and suddenly, the Spokane Future Teachers of Color Consortium (SFTCC) expanded to over 50 current members. It is composed of both people of color and strong white allies, including "in" and "pre" service teachers, K-12 administrators, and our Spokane Public School Board Member Nikki Lockwood. Also, Deans of Education and Leadership departments of Whitworth and Gonzaga Universities among other faculty and staff, plus important community members led by League of Education Voters Spokane Regional Field Director Kenji Linane-Booey.
Our main goal is to recruit and retain unrepresented educators of color and international educators from diverse backgrounds across the entire educational system. We are committed to setting priorities and finding solutions to achieve our goals through developing a virtuous cycle of opportunities for educators, staff, and students, by focusing on changing university and district-level policies, creating Future Teachers of Color Programs for 5th-12th grade and first- and second-year college students. Additionally, we envision developing mentorship and incentive programs for educators of color along with recruiting programs for immigrants and refugees into the educational industry to retain them as economically active members of our community.
The graphs displayed below show the grave disparity of the number of students of color compared to the number of teachers of color in our state and the biggest school district in our community. All our students are negatively impacted (not only the students of color) by this staggering lack of diversity in our increasingly global economy.
This consortium approaches change through the power of all interests working together to achieve common goals that will fundamentally alter systems of racism and oppression. As a community organizer, I invite you to join our efforts either way by becoming a member or providing suggestions to enrich our transformational movement in the educational systems to guarantee equity and excellent education for all!
Please reach out to Kenji Linane-Booey here to become a member of the Spokane Future Teachers of Color Consortium or provide suggestions.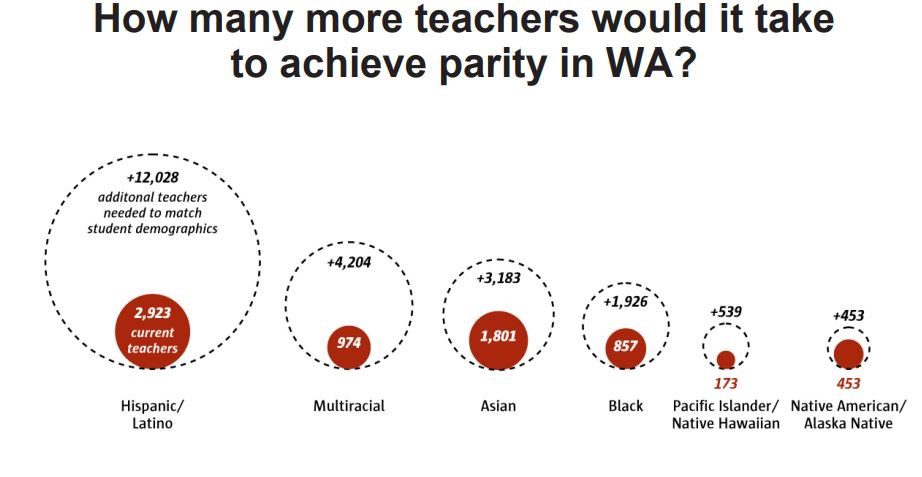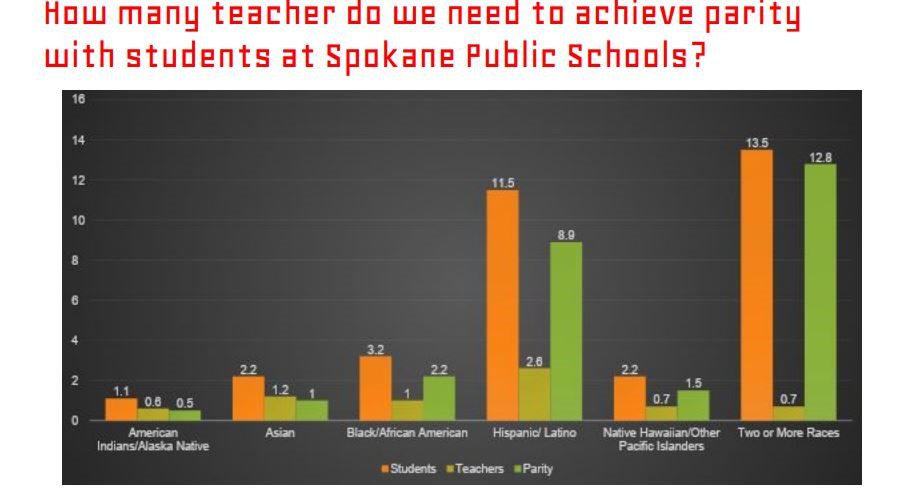 Source: Washington State Report Card (ospi.k12.wa.us)
Watch Maria Esther Zamora in our December 2020 Listening Session with Voices from the Latino Community LEVinar (English interpretation is available by enabling closed captioning) and read the recap
Listen to our podcast on the Puget Sound Educational Service District's Educators of Color Leadership Community
Love what we do? Support our work
Want to find out the latest in education news in Washington? Subscribe to our newsletter
Want to learn more about League of Education Voters? Find out here