At League of Education Voters, we recognize all of the hard work that you do toward improving public education across Washington state.
We are pleased to announce our Education Advocate of the Month for May: Maite Cruz. Read about her advocacy for increasing expectations of success for her community.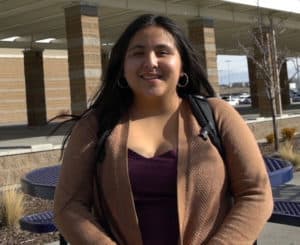 18-year-old Maite Cruz is a senior at Chiawana High School in Pasco, and plans to study political science this fall at Western Washington University. Already she has testified before the state legislature in Olympia, testified before the State Board of Education, and has been a tireless advocate for her community group, Ambassadors of Lakeview Achieving Success (ALAS).
Maite met League of Education Voters Community Organizer Ruvine Jiménez during her freshman year of high school, when she started attending Pasco Discovery Coalition meetings. Ruvine showed Maite how she could become a more active advocate for her community and her peers, and guided Maite through the process of organizing community forums. Maite recalls, "Ruvine came to Lakeview, and showed us statistics about my school and how it compares with other schools."