By Lizzeth Mancilla
Engagement and Policy Intern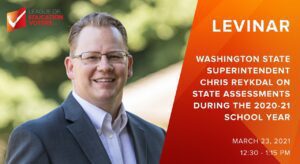 In this webinar, Washington state Superintendent of Public Instruction Chris Reykdal outlined what he knows about this historic and challenging year's requirements for state testing and answered your questions.

This LEVinar was meant to be a forum and opportunity for discussion, questions, and understanding about an issue that will affect many families this spring. Our goal is to support families in better understanding what to expect regarding statewide assessments.