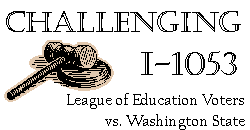 Today the King County Superior Court heard arguments on a lawsuit challenging the constitutionality of Tim Eyman's Initiative 1053. The initiative imposes a supermajority vote in the state Legislature to raise revenues or close tax loopholes. The League of Education Voters, along with the Washington Education Association, parents, taxpayers and lawmakers are asking the court to rule that the supermajority requirement is unconstitutional.
Judge Bruce Heller heard arguments on the standing of the lawsuit, then heard arguments on the merits of the case from both sides. LEV argued for summary judgment because the Court's voice is necessary in determining the constitutionality of the Initiative. Judge Heller did not offer a ruling at the hearing, instead taking the arguments under advisement. A ruling may be announced within the next few weeks.
LEV has a long history of supporting measures that help us fully fund education, including our efforts to pass the Simple Majority legislation for levies that allowed $1.2 billion to be raised for schools just this year. This lawsuit is another important piece in making sure our kids have all the resources they need to get an excellent education. It's also key to ensuring that legislators have all of their constitutionally protected powers at their disposal for making budget decisions.
Even to close the outdated tax loopholes, I-1053 requires a two-thirds vote. But the constitution sets the rules for the Legislature, and it requires a simple majority to raise taxes or close loopholes. As long as I-1053 goes unchallenged, a minority of legislators can block the will of the majority.
Part of the initiative requires a two-thirds vote of both chambers of the Legislature to raise revenue or modify tax preferences. LEV believes that the state constitution is clear that such measures require only a majority vote of the Legislature. The state's constitution cannot be amended by statute, regardless of how that statute came into existence.
The State has said that it will not oppose having the appeal heard by the Washington Supreme Court. Further, the governor has requested to be separately represented by a special assistant attorney general, indicating that she agrees with the plaintiffs that the decision on I-1053 should be made in the courts.