By Arik Korman, League of Education Voters Commnications Director
Inspirational Workshops has partnered with King County Best Starts for Kids to expand trauma-informed and restorative practices in schools, beginning with Garfield High School and Washington Middle School in Seattle to offer the Trailblazers Program: youth of color blazing the trail for others.
The Trailblazers Program, created by Inspirational Workshops founder Theresa Hardy, is designed to empower underrepresented students to gain confidence that will support them with navigating institutionalized racism. Trailblazers introduces youth to social justice awareness and elevates student voice.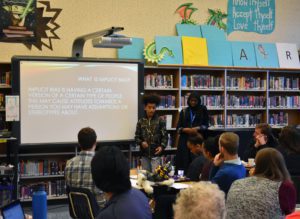 Last week, Trailblazers presented a professional development (PD) workshop on implicit bias for the entire educator staff at Washington Middle School, which was the first PD in the Seattle School District ever led by students. The session was led by Washington Middle School students Sona, an 8th-grader, and Kamilo (a.k.a. Bubbles), a 7th-grader. Sona and Kamilo told their personal stories and led discussions on what implicit bias is, which biases were in the room, why people have implicit bias, negative impacts of implicit bias, and solutions. Read More