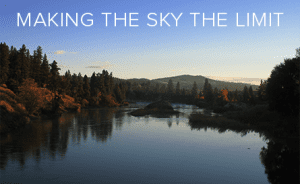 Rogers High School in northeast Spokane had a graduation rate of 50 percent in 2010. This year, the graduate rate was 85 percent, an increase of 35 percent in four years.
What changed between 2010 and 2014? Not the student body. Seventy-five percent of students at the high school are eligible for free and reduced lunch (FRL). What DID change is how students prepare for high school and life after high school.
Rogers High School is in its sixth year of a Navigation 101 grant from College Spark Washington, and they have also implemented the AVID program in their school. Both Navigation 101 and AVID are programs designed to prepare students for college or career.
One aspect of both of those programs is the High School and Beyond Plan, used to help students chart a path through high school to achieve their post-high school career goals. The High School and Beyond Plan is also one part of the newly updated high school diploma for Washington, which was passed during the 2014 legislative session. The League of Education Voters is working with communities across the state to ensure that the implementation of the new diploma is as effective as possible.
So how did Rogers High School implement the High School and Beyond Plan successfully? Read More