By Andre Lawes Menchavez, Engagement Intern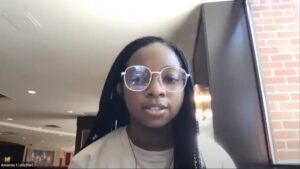 As the national movement continues for Black lives, it proceeds to expose various facets of society that are impacted by the lack of equity for marginalized communities.
One area, in particular, is education.
The intersection of equity and education has become more evident in the recent climate of our world.
Black folx dying at the hands of the police intersect with the conversation on school resource officers (SRO's) and the need to uphold restorative justice programs for discipline in schools. Pipelines to prison for BIPOC intersect with the conversations on diversifying the workforce in schools for more visibility of BIPOC teachers, counselors, and mentors for students. As COVID-19 ravages throughout the country and eliminates access, it intersects with the conversations on alleviating these same issues for students who are low-income and/or live with special needs.
Back to School: An Equity Centered Conversation with Parents, Providers, Teachers, Educators, and Students was a virtual event aimed to tackle these equity issues in education. Community members came together to discuss why and how we should use racial equity and social justice lenses to reimagine how schools can support every learner. Read More