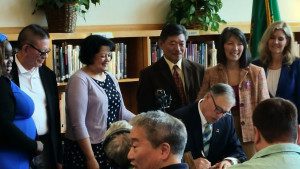 During the 2016 session, the Washington legislature passed Opportunity Gap House Bill 1541, which includes significant changes to student discipline laws.
These changes also affect the rules for student discipline (Chapter 392-400 WAC) and student enrollment reporting for state funding (WAC 392-121-108) during the period of suspension and expulsion. The Washington Office of the Superintendent of Public Instruction (OSPI) will align the rules with this new law before the upcoming school year. OSPI will provide further clarification through additional rulemaking during the 2016–17 school year.
Below is summary of changes effective June 9 that impact the 2016–17 school year. For more information, see OSPI Bulletin No. 024-16.
Limitations on Long-Term Suspensions and Expulsions
A long-term suspension or expulsion must not exceed the length of an academic term, as defined by the school board, from the time of the disciplinary action. This shortens the maximum length of a suspension or expulsion from the prior limitation of one calendar year.
School districts must not use long-term suspension or expulsion as a form of discretionary discipline. "Discretionary discipline" is a disciplinary action taken by a district for student behavior that violates the rules of student conduct, except for actions taken in response to:
A violation of the prohibition against firearms on school premises, transportation, or facilities;
Certain violent offenses, sex offenses, offenses related to liquor, controlled substances, and toxic inhalants, and certain crimes related to firearms, assault, kidnapping, harassment, and arson;
Two or more violations within a three-year period of criminal gang intimidation or other gang activity on school grounds, possessing dangerous weapons on school facilities, willfully disobeying school administrators or refusing to leave public property, or defacing or injuring school property; or
Behavior that adversely impacts the health or safety of other students or educational staff.
Except for in response to the above, school districts may no longer use long-term suspension or expulsion. Even for any of the violations above, districts should consider alternative actions before using long-term suspension or expulsion, except for violation of the prohibition against firearms on school premises.
Possession of a telecommunication device and violation of dress and grooming codes are removed from the list of discretionary violations that, if performed two or more times within a three-year period, may result in long-term suspension or expulsion.
Requirement to Provide Educational Services
School districts may not suspend the provision of educational services as a disciplinary action, whether discretionary or nondiscretionary.
While students may be excluded from classrooms and other instructional or activity areas for the period of suspension or expulsion, districts must provide students with an opportunity to receive educational services during that time.
If educational services are provided in an alternative setting, the alternative setting should be comparable, equitable, and appropriate to the regular education services a student would have received without the exclusionary discipline.
Reengagement Plan and Meeting
School districts must convene a reengagement meeting with the student and family when a long-term suspension or expulsion is imposed.
Families must have access to, provide meaningful input on, and have the opportunity to participate in a culturally sensitive and culturally responsive reengagement plan.
Policies and Procedures
School districts must:
Annually disseminate school discipline policies and procedures to students, families, and the community;
Monitor the impact of discipline policies and procedures using disaggregated data; and
Periodically review and update discipline rules, policies, and procedures in consultation with staff, students, families, and the community.
Questions? Contact OSPI:
For questions about student discipline, alternatives to suspension, and reengagement meetings:
Joshua Lynch, Program Supervisor | Student Discipline and Behavior
joshua.lynch@k12.wa.us | 360-725-4969
For questions about Alternative Learning Experience (ALE) and online learning:
Lillian Hunter, Director | Digital Learning Department
lillian.hunter@k12.wa.us | 206-543-5426
For questions about student enrollment reporting for state funding:
Becky McLean, Supervisor | Enrollment Reporting and Categorical Funding
becky.mclean@k12.wa.us | 360-725-6306
Additional Resources