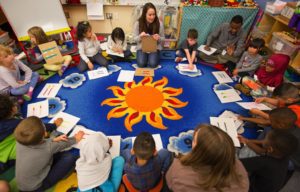 By Kristin DeWitte
Principal of South Shore Pre K-8
Guest Blogger
On my first day of first grade, I stood up and said that I wanted to become a teacher. I never wavered from that goal. As I got older, I had the opportunity to work in a school for children with disabilities about the time that PL 94-142 (the first special education law) went into place. I went to Central Washington University and earned my degree in Special Education with an elementary minor. Later in my career I went on to complete two Master's degrees, the first in Curriculum and Instruction, and the second in Educational Leadership.
I worked most of my career In the Marysville School District, about half the time in special education and the remainder of the time in general education. I have taught kindergarten, first grade, second grade, fifth grade, sixth grade, resource room, elementary, middle school, and high school EBD (Emotional and Behavioral Disorder) classrooms. I have also worked on the core education faculty at Antioch-Seattle, the adjunct faculty at Western Washington University at Bellingham, Everett, North and South Seattle satellite campuses. I was the original developer of both distance and online learning components of continuing education for Seattle Pacific University. And I have consulted on a variety of topics in an eight-state region of the Northwest and Southwest US.