Kids Co. students learn about cooking and nutrition during friendly competition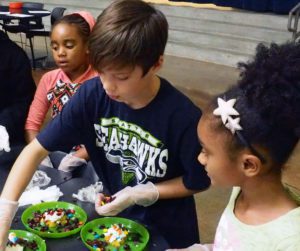 Kids Co. is a Seattle-area quality childcare provider that has partnered with South Shore PK-8 since the school opened in 2002. Kids Co. has provided millions of dollars in scholarships with help from the New School Foundation and the League of Education Voters. Nearly 60 percent of all children who attend Kids Co. at South Shore qualify for free or reduced lunch (FRL), and receive these scholarships.
Every day, Kids Co. sees the parents of the kids served, so they get to know the families – their ups and downs and financial struggles – and it's all about relationships. Their summer programs serve kids K-5, and the kids from different grades learn to work together and support each other.
Kids Co. supplements meals, and they teach kids how to create a nutritious meal on a budget, instilling these skills in children as young as 5 years old. At South Shore, the Kids Co. classroom features a full kitchen, and is able to prepare hot, fresh meals.
President and CEO Susan Brown says, "The school day begins when the kids wake up. Kids spend more time in childcare than in school." During summer, that can be as many as 11 hours a day for working parents, and 5 each day during the school year. Susan adds, "Nobody is turned away because of lack of funds."